Results from the 2019 Fall Classic
Joe Cashes for the first time in the Fall Classic,
earning a 16th place finish!!!
---
The results are in from the 2019 Fall Classic tournament... and Hor$ense Expert gets an assist on my 16th place finish, which was held at the Orleans casino in Las Vegas, on October 17-19.
The format:
Wagers (Days, Plays) – 3 days, 15 plays, 45 total plays
Format – Win-only, 100 points each, 4500 total points wagered
The stats:
Finish – 16th place (out of 310 entries)
Points – 7641 (Thu-4066, Fri-2835, Sat-740)
ROI – 70% (handicapping) / 182% (tournament)
Wins – 7 (3 at Hawthorne, 2 at Keeneland, 1 each at GP West and at Belmont, 0 at Santa Anita)
The story:
This year was my fourth Fall Classic tournament – in a row – and I was ready to finally cash. This is a three-day win-only tourney, which is both good and bad. You see, I like three days better than those that are only two days BUT I like win-place better than win-only. After last year's "wet weather" disaster, my lesson learned was to review the weather on the days BEFORE the contest and not just for the contest days.
Friday (10/11) – The contest tracks are posted on the Orleans racing webpage for the three days, and they're the classiest of what's available: Belmont, GP West, Hawthorne, Keeneland, Laurel and Santa Anita (SA only used on Fri Sat). I would have liked to have another track for each day, but there really weren't many more choices… oh well, that's how it goes.
Saturday-Tuesday (10/12-15) – My main focus for these days is the mapping of the long-range weather. This year it calls for heavy rain on Wednesday at both Belmont and Laurel, so I'll be monitoring those tracks until decision time.
Wednesday (10/16) – I have never waited this long to decide… I used to enter weeks early, but no more. The rain was heavier than expected at both tracks, so there will be no turf racing at those tracks until at least Friday, so it's not an ideal situation. As a result, I spent the afternoon watching the races from Belmont AND the weather at Laurel. I had to wait until 1:30 to finally decide to enter the tournament. Let the games begin!!!
Thursday – Belmont made the right choice by cancelling their card, due to gale force winds. This reduced the pool to just four tracks! Then it got a little harder, because of the short fields at Laurel (turf closed for the day) AND no Santa Anita (a real shame how bad racing is there, where they don't have enough horses to run four days a week). It was a slow start, as I had only three wagers before Noon. My first winner came in at 1:30 and my last at 4:30, and since they were both 20-1 shots at Hawthorne, I had a very good day. I scored 4066 points, which put me in a tie for 15th place at the end of the day. It's always nice to get off to a good start… I thought that is was my best placing ever on the first day of any tournament, but it's merely the same as the other times that I cashed.
Friday – With the short fields at Laurel (turf closed for the early part of day) AND Santa Anita (no surprise here), the action would again be reduced. It was another slow start, as this time I had just two wagers before Noon. My third bullet was a winner, a 6-1 shot at GP West, and my next bullet hit at 4-1at Belmont. A few hours later I scored on a 10-1 at Keeneland, and my final score was at 4-1 at Hawthorne (I would have loved it to be closer to the 15-1 morning line). It was an oddly quiet day – with very few outbursts of joy – and the scores reflected it… and as a result the 2835 points was still a very good day for me. The two day total of 6901 points was good for a move to 3rd place, which was my best second day placing. Getting ready for "moving day"!
Saturday – I was feeling good after having an early winner at 6-1 at GP West… with the 740 points nudging me up one spot to second with 7641 points, and then… nothing. Yes, there were two heartbreakingly close calls at Hawthorne, at 6-1 and 23-1, but that's how it goes in the tournament game. By early afternoon I had barely fallen out of the top ten, and I was still above the cashing line by about 200 points… and then it got weird. The cashing line stopped moving at 2:30, and it didn't move for the rest of the day! Three hours later, I was overjoyed to see that my 7641 points held up for 16th place… along with a $900 profit. It was my first time cashing here, and now I've cashed three times in seven tournaments since using Expert as part of my strategy.
It's no surprise that it was a great experience, and the people at our table we're even nicer than usual... and the table had another player who just missed in 22nd place. There are quite a few real players at these tournaments, and this one featured a first… a female champion, and it was a well-deserved honor!
Here's a high-level review of how I did it... with yet another tweak in my odds limits (due to no place wagers) AND a BIG assist from the upgraded Expert "mock form".
First, I screened every race using Expert, identifying both cash plays (still at 2-1 or higher) and tournament plays (now at 4‑1 or better, instead of 6‑1). Then I replaced the old fashioned "pen-and-paper" analysis (using a four-color pen) with the updated "mock form" created by Expert. I then compared my two sets of selections – from both the Expert analysis and the upgraded Expert "mock form" – to determine which picks would make the first cut of selections. For each day, the first cut eliminated about half of the races. From that list there will be 18‑35 races left, which eventually becomes the 15 that I use each day.
Why is the new Expert form so useful? It now uses color coding for all of the pertinent horse information: [1] past performances, [2] in-money/earnings info, [3] workouts, [4] key trainer data, [5] auction/pedigree info. It's more accurate than the old way, and it requires virtually no time to produce. The "upgraded "mock form" allowed me to keep my focus on those 20‑35 plays over those who didn't make the cut. Using the new "mock form", I was able to reduce the amount of time spent per track by 10‑15 minutes per track, which works out to about an hour saved each day.
Now that I've been in over a dozen of these tournaments, I know from experience that they will always be a test of focus, stamina and commitment. It was great that I could finally collect some cash in this Fall Classic tournament; and now I'm three out of seven while playing in tournaments using Expert. I couldn't have done it without the help of Expert, which continues to prove its worth for both daily handicapping and tournament play.
To learn more – about the tournament OR Hor$ense Expert – please feel free to contact me at jdm@ponypicker.com and I'll get back to you.
The pictures ("proof-of-life"):
Day 1                                                                                                   Day 2
<![if !vml]>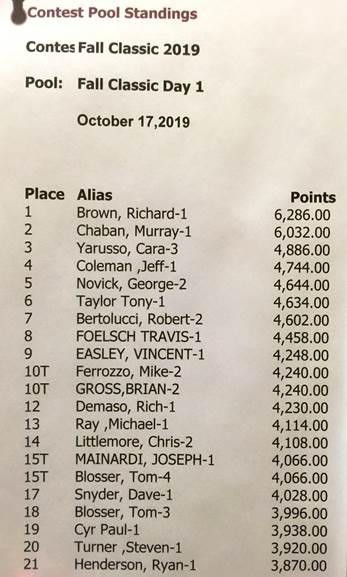 <![endif]>                     <![if !vml]>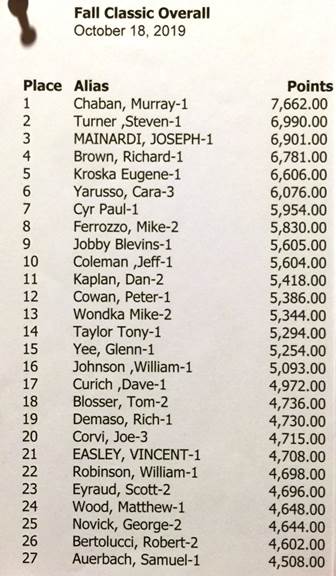 <![endif]>


Day 3 (Final)
<![if !vml]>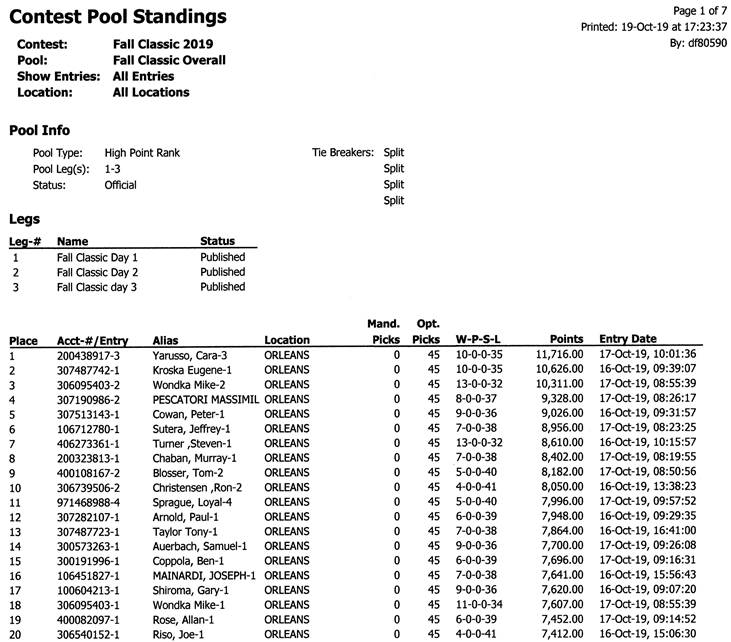 <![endif]>


"My Home" (close to the buffet line and the open bar)
<![if !vml]>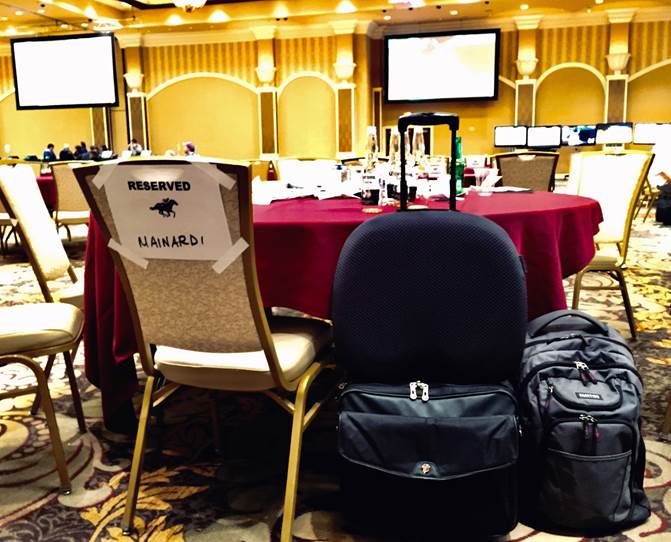 <![endif]>