Results from the 2016 Summer Classic
Sweeter the Second Time Around...
Joe Cashes (AGAIN), this time with a Top 15 Finish!!!
---
The results are in... and this time Hor$ense Expert helped me to a 14th place finish at the 2016 Summer Classic tournament, held at the Gold Coast casino in Las Vegas, on July 29-30.
The format:
Wagers, Days - 15 plays, 2 days, 30 total plays
Format - Win-Place, 200 points each, 12000 total points wagered
The stats:
Finish - 14th place (out of 190+ entries)
Points - 17742 (ROI - 47.9%)
Wins - 4 (7th highest points per win in top 24, while tied for 17th in total Wins)
Win-Place - 7 (8th highest points per WP in top 24, while tied for 17th in total WPs)
The story:
This was my eighth tournament -- and the first time ever for back-to-back years -- and I was ready for the grind after staggering to the wire for a 22nd place finish last year. The big change was a reduction from three days to two days, so a higher ROI was probably necessary, and I had to switch to playing higher odds horses.. not exactly my forte.
Day 1 started out strong, with a 9-1 shot on my very first play. Next came two place finishes (worth points in this win-place format), followed by back-to-back 9-1 shots midday to get me to 7th pace before I cooled off. Oddly enough, I had NO winners at Del Mar (my "home" track)... luckily Saratoga was kind to me. Overall it was a good start, with the 9980 points placing me 16th.
Day 2 started out brutally, with a big ZERO points heading into the middle races at Del Mar. I found a live 18-1 play that just missed, breaking my second-day maiden. My big (and I mean BIG) break came in the 9th race, where I originally couldn't decide between two longshots... and good fortune was on my side, as I cancelled an earlier ticket on a short-priced horse, giving me a spare "bullet" to use and play both of the horses. As one of my horses cruised by a tired field in mid-stretch, I wanted to celebrate but I had to wait for the wire... and at 30-1 I knew that I would be inside the "cash line". When the favorite won the last at Del Mar, I knew that I couldn't be bumped out, and I got in line to collect my winnings... and by finishing 14th (8 spots higher than last year) I made a net profit of almost $400.
Once again, it was a great experience, as the people at our table we're just as nice as those from last year... and this time there was another player who cashed in 25th and one that just missed. These are real players!
Here's a high-level view of how I did it... with a tweak in my odds limits. I screened every race using Expert, identifying both cash plays (at 2-1 or higher) and tournament plays (at 6-1 or better). I then used old fashioned "pen-and-paper" analysis (the four-color pen worked overtime), and then compared the two sets of selections. Those that matched got a higher ranking, and since each day I had to reduce 30+ initial selections down to 15 plays, I was able to focus on those plays over those where the two methods differed in their selections. While it all sounds simple, it took about an hour per track to get to this point... and with six tracks on both days it was a full-time effort.
These tournaments are a test of focus, stamina and commitment, and it was great that I could get back to the winner's circle again. I couldn't have done it without the help of Expert, which has proven it's worth for both daily handicapping and tournament play. If you want to know more -- about the tournament OR Hor$ense Expert -- please feel free to contact me at jdm@ponypicker.com and I'll be happy to get back to you.
The pictures ("proof-of-life"):
Day 1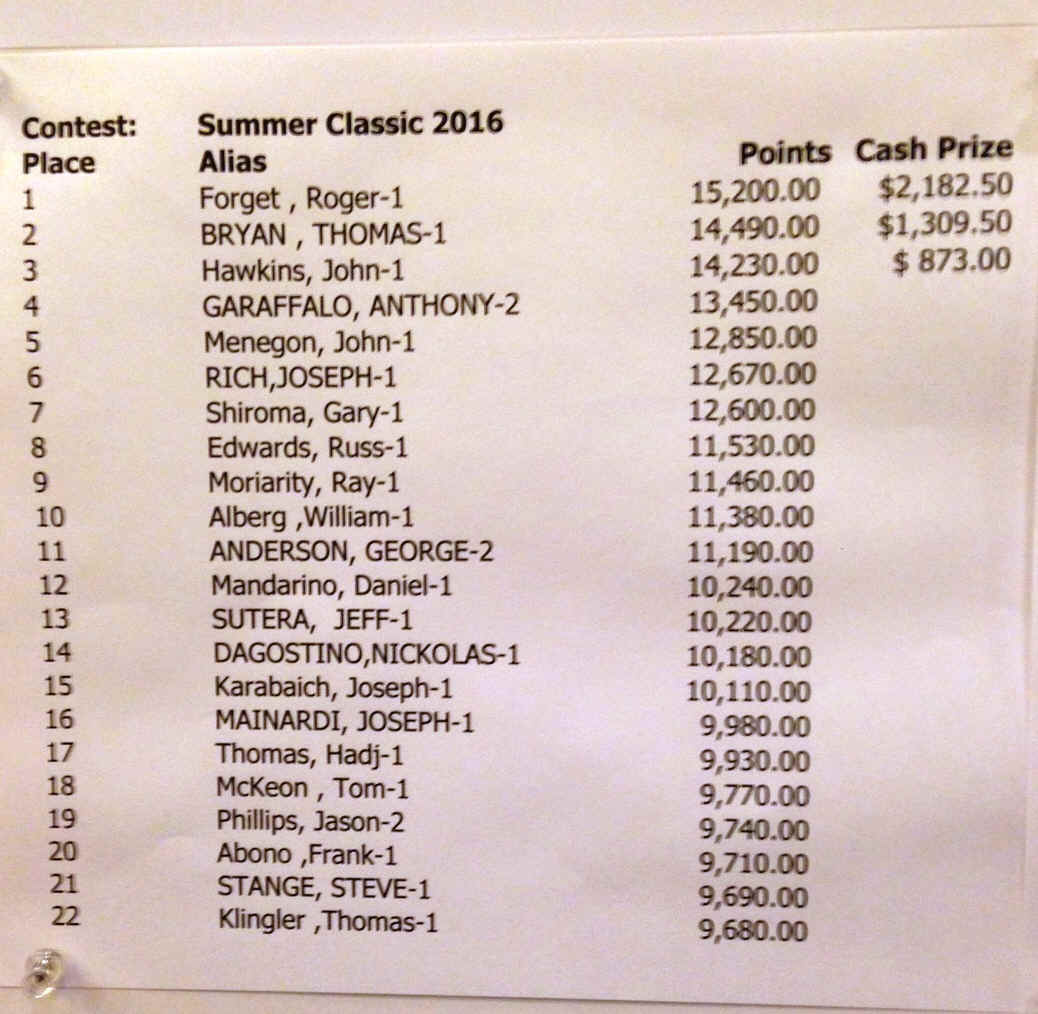 Day 2 (Final)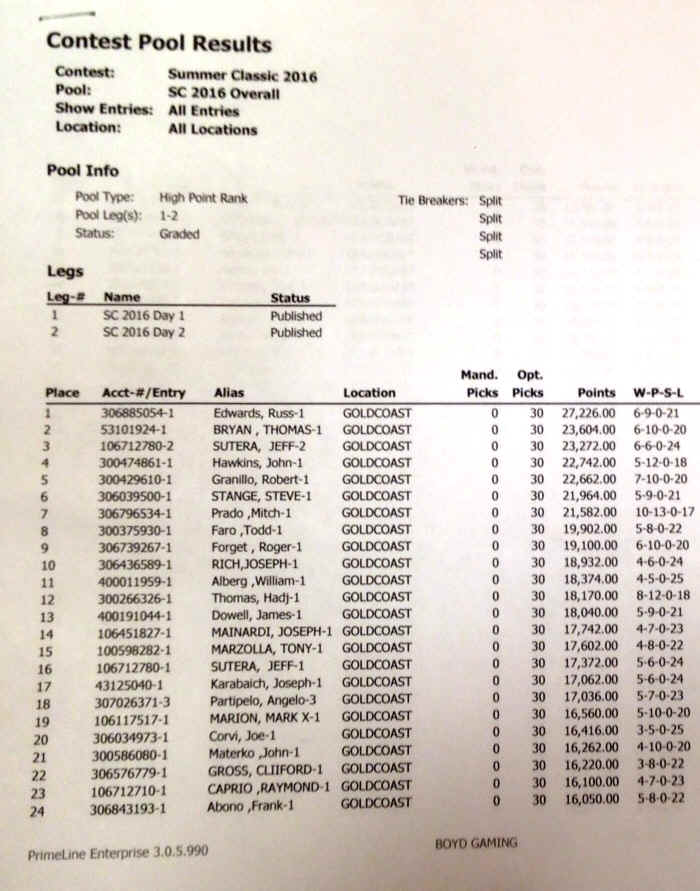 "My Home" (yes, it's the same spot as last year!)